William Henry Vingoe of Madron & Penzance.
His antecedents & descendants
0r
"Where did he come from where did they go? "
William Henry was baptised 7 May 1807 in Madron the son of Henry Vingoe & Alice Reseigh, who had married there in 1806. His father Henry was born in 1780,a child of Richard Vingoe and Alice Argolls [ whose marriage was also recorded at Madron in 1763.. The Argolls [Argalls] were at that time a Madron family, but had hailed originally from the area so named near Penryn. Through this line the Vingoes were related by marriage to the Glasson, Rodda and Branwell families.
Richard Vingoe was a branch of the line, that had originated in Sennen & St.Levan parishes. This line almost died out with the death of" Richard the Fisherman" in 1714, leaving only a young son John age 11. He in turn, died intestate in 1762, leaving his son Richard to swear the oath of administration with the widow, Mary [nee Lanyon]. The other son John and a daughter Sarah are not mentioned. Sarah married Richard Buspidnick in 1750 and would have received her marriage portion then. Her absence of mention is not surprising. The other brother, John, should have been an equal heir with Richard to any property but the papers remain silent as to his presence. He later could have been the groom of Margaret Ellis, married in St. Just in1769. This couple were probably the parents of my 3X great -grandfather Henry Vingoe born circa 1771-[the record of his birth is missing] but a later John b1742 to a Henry is more likely. All the Vingoes existing at that time were fairly close cousins, having all descended from one couple in the 1650's. The names William, Henry, John & Richard were used with repetitive monotony for the males, merely in different order for the respective lines. Females were blessed with Mary, Margaret, Anne, Sarah & Joan/Joanna/Jane- [often inter-changeable it would seem]. Genealogy is not an exact science at the best of times!
William Henry Vingoe, being the first -born son was named for his mother's father, William Reseigh a blacksmith & the second name - second Christian names then only just coming into popular use-after his father. He also had an uncle and a maternal g/grandfather [William Argolls] bearing that name. The next child was Richard, for his grandfather and an uncle & next John after a paternal g/grandfather. Then the next son is named Henry solely after his father. This pattern is according to the Cornish naming traditions prevalent at this time in some families. If there were enough sons one would eventually be named for the father or another family member would do the honors. Relatives that died young were often commemorated by children being baptised with the name of the departed soon after their demise. It was also done if it looked unlikely that they would marry and produce heirs. Henry had named a son for a brother that had died and another for a brother John, who was single and not in good health. This John, however, did marry late, at aged 38 and his wife bore him a son but both John and his son died within months of each other in 1812.[see will of Richard] Another brother of Henry, William, had named his first son John and a second after himself. It was not until the third son that his wife, Constance Rodda, named a son after her father, Thomas. The next was named Richard after both paternal grandfather and newly deceased brother. It all seem a little morbid to us today but maybe they were trying to establish a continuity to life in an age when nothing was certain. It also made a statement as to which of the partners to a marriage had the name with the greatest importance. Some wives' families hardly got a look in.
Henry was mentioned in his fathers will of 1821. He only received 5 shillings so we can assume that he was provided with whatever was his share when he left the family home on getting wed in 1806. Perhaps his wife Alice had brought land or money to the marriage as her family were regarded as fairly well-to-do farmers. The family farms were small and often much starved of investment. Each of the daughters was also provided for at marriage. The son most fitted to follow in father's footsteps was not always the eldest. Other sons usually took money compensation and went off to start up on there own account. This is what I believe happened in Henry's case, his older brother William inheriting the family farm at Boswarva. Perhaps he was not cut out for farming as he set up as a builder & carpenter, all his sons following him into the trade. By the time of his fathers death he had a growing family and a growing business.
Here is the Will of Richard Vingoe which was a great help in confirming parentage of his various children and their deaths, & marriages. The one shilling left to members of the family or acquaintances, was not a derisory sum but inserted in the will as a recognition, on the part of the deceased. In the past gold laced gloves or mourning rings were given but in this more practical age the gift of money was thought more suitable as a token.. That was why the phrase to be "cut off without a shilling" was thought worthy of exclamation at any reading of a will. The relative or friend in this situation had been thought little of by the dear departed. Their value was assessed by the number of shillings given . Amounts above five are un-common as that was regarded as almost "serious money."
Will of Richard Vingoe: Born 1733 St. Just. Died 1821 Madron. Age 88 years
"I give and bequeath to my beloved wife, Alice, the sum of Ten Pounds yearly to be paid every quarter by my executor during her lifetime.
To my daughter, Alice Vingoe, the sum of Eight pounds a year.....and the house that I now live in with all my household goods to my wife and daughter during their lifetimes and sufficient fewel [fuel probably furze and turf cut of the moorland] for their use during their lifetime.. free cost....If Alice my daughter do be married she is to have Four pounds a year every quarter to herself , and nothing else.(1)
To my daughter, Phyllis Thomas of St. Just, the sum of 30 Pounds to be paid six months after my decease. I give to my son-in-law, Martin Thomas, the sum of one shilling, three months after my decease. (2)
To my daughter-in-law,Margaret Vingoe, widow of my son John Vingoe deceased, the sum of one shilling, six months after my decease. (3)
To my daughter, Sarah Bosence, wife of Richard Bosence, of the parish of St. Creet [Sancreed], the sum of Ten pounds after her husbands death, three months. If Sarah dies before her husband Richard Bosence, he is to have a shilling. (4)
To my son Henry Vingoe, the sum of 5 shillings, three months after my decease.
There is then a long gap in the writing on the page as if it had been left it blank for a time and then, in a changed script as with a thinner knib it carries on:
Lastly. I give my son,William Vingoe, whom I make and ordain the sole executor of this my last Will and Testament, All and singular my Lands, Mefsuages and Tenements, by him freely to be pofsefsed and enjoyed. And I do hereby utterly disallow, revoke and disannul all and every other former Testament ,Wills, Legacies, Bequests and Executors by me in any ways before named, willed and bequeathed; ratifying and confirming this ,and no other, to be my last Will & Testament.
In Witness whereof I have hereunto set my Hand and seal. this twenty-fifth day of January, one thousand eight hundred and fourteen .
Witnessed by
Hugh Laury John Jenkin Jno Stephens [different family
than the Stevens of St.Ives]
1, Alice died in 1826 still unmarried. He wrote the will in 1814 when his wife was 67 and inserted no clause about her re-marrying. At her age perhaps he gave no though to it, although many husbands did and left their widows with little means of support without there sons total approval. His wife died before him in 1818 and the will was not re-written.
2, Phyllis and Martin married at St. Just in 1793 and had three children, Phyllis 1800,Martin 1804 & John 1809.
3, This is almost a story in itself, replete with family intrigue. Margaret Stevens married John Vingoe in 1809.There is some evidence that he had earlier fathered a son, the mother Patience Nankervis. She had her child baptised with the name John Vingoe at Madron in 1807 although her home was in Ludgvan. She was about 27 at the time of the birth. There must have been some recognition of this child at the time or the vicar would not have named him such, implicating John b 1771 as the father of the child. He was the only one of that name in the parish .The child carried the surname of Vingoe and passed it on to his descendants. John did not marry Patience as was often the custom when a child was the result of a relationship but he did marry Margaret Stevens who was from St. Ives in 1809. Patience later also married another. In John's will there was no provision for any other than his infant son by Margaret, his wife. Hardly surprising when his mother-in-law, Margaret and father-in law, John were witnesses to the will ,written when John was dying. He had been a farmer and left his widow well provide for with property and money on trust for his son to have £100 at age 21. Thomas Glasson Jnr. of Trewidden was to be a trustee. Margaret, mother of his child was to be another.. Their infant son died before his father so Margaret inherited everything. " My will is, all the property shall fall and be my wifes Mary Vingoes" The will named no executor so was unlikely to have been drawn up by a lawyer. Margaret, as the sole legatee, was obliged to swear an oath before the Archdeacon of Cornwall, William Short , that the document was "the true Original last Will and Testament of John Vingoe late if the parish of Madern ,your late husband deceased, so far as you know or believe" and that the signature was his. This document was passed on to William Borlase, Charles Valentine Le Grice and Thomas Robyns, Commissioners for Oaths, who granted her letters of administration The order was signed by William Borlase 24 July 1812. She promised to make an inventory of all the "goods and chattels of the deceased" pay any debts and write a detailed list of all his credits and return in October to be granted probate. It was as if John had died intestate. Witnesses to her oath were John Stevens and William Stevens both of the parish of St. Ives. Also in attendance was a John Stevens, the younger. Call me a cynic but it sounds a bit like the fox being put in charge of the chickens.
She received a good income from these investments, enough to threaten her niece-according to the terms of her own will. The niece, Elizabeth Richards, was living with her and was, I dare-say, made well aware of the terms of her aunt's will. She was faced with the prospect of her aunt leaving everything to her brother if Eliza ceased living with her. "If Eliza shall leave me before my death she shall forfeit the whole of the above and my brother George Stevens, shall enjoy the same that she is entitled to from me if she stay till I die" Margaret remained a widow from 1812-1844 although no condition to remain so was written in her husbands will. This in itself was a very rare situation for a young, rich ,widow to find herself in. A second husband could lay claim to all the wealth a widow brought to a second union and husbands usually ensured that a second husband could not enjoy his wealth after he was dead and gone. They would ensure in their will that, if left any property or money as a widow, other named beneficiaries could lay claim to it in the event of the widow re-marrying. This applied even if the widow had brought the property or money to the first marriage. It seems as if Margaret was quite content to live in a comfortable, independent, widowed state for the rest of her life. I have established that probate was granted to Elizabeth Richards, although it was delayed until 1846. Someone must have contested her claim: I wonder who ! The niece was the beneficiary of her estate in the end: it sounds as if she deserved it!]........ Back to Richard's Will................
4, Sarah was the second wife of Richard and married in 1792.They had six children: - Henry c 1793-94+William c 1894+Henry c1799+Henrietta b1806 died +Maria 1808 died + Maria b 1813]
Richard also requested that he be buried close to his son Richard who had been interred at Sennen Sept1812 .
As his wife Alice had pre-deceased him and was buried at Madron I expect the family thought it more fitting that he was buried alongside her at Madron. His other son John, who also died in July of 1812, is buried at Madron and Phyllis, his daughter followed in 1826. When he made his request in the will he was probably still depressed by the death of two of his sons within months of each other and later he probably forgot he ever requested it. The family chose to ignore this part of the last will and testament of their father.
William, the third born son , then became the heir to the farm at Boswarva but the next few years was to change the isolated lives of the scattered farming communities forever. These farmers, although passing down the right to farm and let property & land did not usually own land themselves as a freeholder. In William's case although he did own just over 22 acres he also leased 32 acres from the Hon Anna Maria Agar and a further 17 from a member of the Pascoe family. This gave him a total farm of 71 acres. (Land Holding)
The system used for these leases was known as a "three lives lease". The tenant could rent land from the landowner-often absent and heir to the old landed gentry of the south-west. Families such as the Arundels, St.Aubyns ,Godolphins, Vyvyans, Boscawens and Bassetts held large tracts of land in Cornwall and the mineral rights to what lay under them. For a lump-sum payment and a nominal annual rent, payable each quarter, the tenant could make use of the land and the agreement ended at the death of the last "life" of the three persons nominated. They could build dwellings, barns etc and improve and cultivate the land in anyway they chose. At the end of the life of the last nominee the lease was at an end and new negotiations took place. This often meant a large sum was required to renew it. If the existing tenant was unable to meet the sum demanded the landlord ordered him to quit and put a new tenant in who could pay.. The family might have lived there for countless generations but as the demands increased leases went to the highest bidder. Sometimes too much was asked and the houses were abandoned and fell into ruin and the land was reclaimed by the moor. The inhabitants had gone never to return. At a time of recession, few poor tenant farmers could afford to feed themselves let alone buy their leases. Later, land acts were passed to help sitting tenants borrow money on the strength of the value of the land they wished to purchase and any property built on it. There was no compensation paid in 1870 for any houses or property that had to be left on the land at the death of the last life, even though it potentially increased the value to the landowner.
John and Richard , son's of William and Constance, were still living at the family farm of Boswarva in Madron in 1871 but their sons appear to have little prospects. John, the eldest , had several children [he married 3 times] but all the sons had to move away from the family home, one only to Ludgvan, a nearby parish, but two to London and the fourth and youngest, James Henry b 1869, I found traveling to & fro from Calumnet, Michigan both before and after his marriage to Bessie James in Madron in 1893. The last time was 1900 out to Michigan again. Was this for good as I can find no more records in Madron? He was a gardener on the first voyage in 1887 at age 18 and later a miner; Calumnet being a rich copper mining area. I think it possible that his father John b 1803 was the last named life of the lease purchased by his grandfather Richard and the lease ended with his death in February1884. Several of Richard and Alice's grand- daughters and g grand-daughters were also to leave their homes to emigrate to the new lands of Australia, New Zealand and South Africa some meeting tragedy when they got there, others succeeding in their search for a better life. Few from this line went to USA or Canada. That was favoured more by the Newlyn and Sennen clans. * Reports from the New World-Shipwreck -Gold Fever -and Farming.
Henry Vingoe, the youngest son of Richard and Alice, had to make a name for himself and though he probably fared better in the long run no trace of this line remained after 1900 in Penzance. He was a respected member of Madron church and also made a good living as a local builder. There was a terrace of houses opposite the church called Vingoe's Terrace which he built. These were later knocked down . Recently there has been a new development and a part of it has been named Vingoe's Lane, There are references in Millett's book of the parish of Madron to the church records and to the chest they were kept in . This was described as being made by Henry Vingoe. He is also referred to in connection with the church purchasing a piece of land to extend the churchyard. The meadow taken over to pull part of the wall down and re-establish the boundary was Henry Vingoe's meadow. Whether he owned or leased it I have not been able to find out. Another member of the family has informed me that Henry was responsible for carrying out improvements to the dome of the Penzance Market House and that he has the original plans dating from about 1835.This is the dome that houses the clock with a beautiful setting but a hideous "CLANG", unmistakable to all who have ever heard it. The dome looks out over the main street of Penzance and is clearly visible for miles around towering over all other buildings still !
Henry leased land at Lesingey, Nr Gulval from the Ellis family of Sennen, for building houses and also at Victoria Place, Penzance, where he was living by 1841 This was long before the Ross family sold off their estate in 1889 and the many houses were built almost joining Penzance to the Western Green area of Newlyn, The Lidden & Mennaye and before the promenade Cornwall and South Terraces were thought off. The last habitation then was known as Captain's Row, as so many of that calling lived there. It was situated just after the docks and the Battery Rocks , to the west of the chapel at the bottom of the street now known as Chapel St. This was then only a Chapel of Rest, the main parish church being at Madron.
Between this and Newlyn then were the dunes. At this time the view from the houses at the high western end of the town was incomparable. There was then a clear view of the Mount and bay and the dunes that bordered it . Morrab is from the Cornish "Mor app" = coast or dune next the sea. Part of the old Ross family House and gardens was bought in 1889 by the Corporation for the benefit of the populace. This is now know as the Morrab Gardens and the house is now the home of the Penzance Library. This was first established in1818 at a nearby building in Parade Street Passage. It is now referred to as the Morrab Library so as to avoid confusion with the Penzance Public Library on Morrab Road. Strangers continue to muddle up the two ! The view from the first floor windows of this library in a garden almost recaptures that elegant age of 200 years ago. You can study the books in the reading rooms and imagine how much past occupants of this house were indeed privileged. Henry chose to place his own home slightly set back from this lovely position to the west of the town. Then this was a very rural area away from the bustle of the main streets of Penzance and not far from the leafy lanes that led to Alverton Farmhouse and Castle Horneck, home of the Borlase family. Closer still were the orchard and farm where Edward Pellew and his brother Israel ,famous for their acts of" daring do" in Nelsons Navy. Israel Pellew was at Trafalgar and captured Villeneuve, the French Commander-in-chief. Edward Pellew led the attack on the city of Algiers in 1816,when the final remnants of the Barbary pirates, which had plagued the seas around Cornwall for centuries, were finally wiped out. The famous brothers spent some of their childhood in their grandmother's home when their mother returned to Penzance to live when their father died .The thatched farmhouse is still there" Hawkes Farm" together with the name of "The Orchard" given to a bungalow at the top of Alexander Road.
Henry died in 1858 his wife Alice in 1860 both lie buried in Madron church-yard .By the time his son William H. returned to live in the family home in 1860, the pace of change was increasing. By the time of his death in 1888 the area was absorbed in to the commercial life of the town . The fields of the Ross estate became the site of the Art School and Museum-later the Public Library- Also the fine houses on Morrab Road were built soon after to house the new emerging middle classes and the boarding house proprietors who wished to provide accommodation for the fast growing number of "visitors" requesting rooms in "gentille establishments with all conveniences ". William Henry had worked in the family business at first. He took out a patent with his father " No 9984 AD 1843. Specification of H Vingoe and W H Vingoe of Penzance ,builders for improvements in apparatus for planting or setting, drilling or dibbing, corn, grain, seed, pulse or manure; parts of which improvements are also applicable to the construction of wheels of carriages". His Uncle William's farm at Boswartha would have been the ideal place for testing and proving the invention.
His other brothers, Richard, James and Henry, also worked with their father in the family business but another, John, had tried his skill in London. Soon William H had joined him. He had worked for some time as young man with his brother in the building trade in London but when he met his future wife, Mary Ann Fletcher, they had decided to settle back in Penzance where they got married had two sons, William Fletcher Vingoe and James Fletcher Vingoe. Sometime after 1841 they decided to return to London to re- join his brother in his building business, which by now was a very successful one, John driving about Chelsea in his own carriage to his various building sites. The brothers returned to their home town together when four of William's children and one of John's were all baptised at Madron Church on the same day in August.1852
At the death of his widowed mother William H had moved into the family home of no 10 Victoria Place. Two of his unmarried brothers, James and Henry, appear to have moved out . His unmarried sister, Mary Jane. gives her address as 10 Victoria Place but as a lodger, not sister! Brother, Richard, married but with no children, was living two doors away at number 12 Victoria Place. Brother James seems to have removed to "The Duke of Cumberland", a public house in Causewayhead.! He eventually married sometime between 1871 &1881. He was over 53 at least on marriage and then lived at 12a Victoria Place, the address of brother Richard., then in three rooms at no 13 which might be still no.12a but re-numbered. Henry seems to have moved out and away altogether. I have found a Henry b1818 Penzance living in Devon on the 1881 but I have not clarified the parentage of this Henry yet. There is another in the workhouse at Madron born Penzance 1828, a bit too late for him. This is also a bit of a mystery as I have no birth for another Henry at this time except one that died in infancy. It might be that the parents had another and also called him Henry but neglected to bother with a church ceremony. This happened a few times with my ancestors! They had paid the Vicar once for the naming ceremony, it was hardly necessary to go through it all again!
Whether relations were friendly or not would be hard to say but it appears that the father, Henry had given preference to William H as the father of sons. This was to be no guarantee of the name surviving ,however, as at William H death in 1888, his daughter Emily Quance is granted probate in his will as his daughter and no other children are mentioned. Emily must have returned to Penzance from Peckham, London where they were living in 1885. She and her husband and family are on the census return for 1891. Richard Quance was an artist and the two had met in Penzance His mother was Jane Trewavas of Mousehole and his father from a Devon family of mariners. Emily and Richard had married and then been students together in London in 1779 : he at the National Gallery and she at the Royal Academy of Music. In 1880-83 they both went to Belgium. Richard was to study art at Ghent and Emily music at the conservatoire in Brussels. Emily is on the 1881 census with her two children staying with her family and by 1883 Richard Quance Jnr. was the Hon. Sec. of the Penzance School of Art whilst his father was a local councillor for the East Ward of the Borough. (Source Kellys Cornwall Directory 1883). Richard Jnr. later presented. one of his paintings to the town of Penzance, which at one time was hanging in the Council Chamber at St. Johns Hall but has since disappeared.
On the 1891 census Richard Quance is described as a taxidermist but I cannot tie this in with his artistic talents lying in another direction entirely or the fact that his father- in-law's collection was sold off a couple of years before. Both of Emily parents have died and the complete family : Richard Quance age 42, artist : wife Emily age 39 and children Richard age 17 Ethel age 13 and Violet age 9 are living in the old family home at 10 Victoria Place. However, sometime in the 1890's the Family decided to emigrated to South Africa where descendents still live today. Other descendents later settled in Canada.
What became of Emily's, Edward J is still a mystery. He was previously described as a carpenter but on the 1881 census called a *naturalist, however he disappeared by the 1891census.
The demise of William Henry & Mary Ann's children was as follows:-
+ 1 William Fletcher b1835, married and had an only daughter. Died between1871-1881 ?. On the 1881 census I found his widow Mary Ann and her daughter Mary Jane both born Penzance now living in Swansea ,Wales with a son William J. b 1871 in Swansea. ? No further information yet as to whether this line continues.
+ 2 James Fletcher b1837-1863
+ 3 Sarah Ann 1840-1851+
+ 4 Henry Herbert 1841-1843
+ 5 Henry Herbert 1849 -1878.Un -married. Lived in London. Declared bankrupt in April discharged May of 1868 Death at sea 1878 . Ships fire killed all but 3 survivors [all ships crew]. Henry H was emigrating to New Zealand* Feature report
+ 6 Emily Jane b1848 m R Quance 1873 died in South Africa ?
+ 7 Edwin James 1851 last on 1881 ? No further reference to him found yet.
The families of William Henry's siblings were hardly any more successful when it came to leaving males to carry on the Vingoe name :-
Richard b1809 & his wife Elizabeth Arthur. NO ISSUE
John b1811 & Josepha Mathews, who moved to London, had a boy and a girl. The boy Edwin went into the wine trade and in turn had two sons and a daughter one son producing male heirs which continue the line down until today* See report." John and the Coat of Arms".
Henry b1814 NO ISSUE - James b1816 NO ISSUE
Alice b1818 m James Courtney. *see report " Family Connections" -Knil, Courtney and Stafford Cripps
Emily b1821 m Richard White, Organ builder, seller & teacher. 24 Clarence St. Penzance.
Mary Jane b1826 Milliner & Dressmaker. Unmarried. Writer of poetry according to Australian cousins named Davey, who visited her in Penzance 1905 on a trip back home.
There was little to show for three generations of Vingoes loves and lives, save for the market house dome and few know who the architect was, let alone the builder. This is the oft repeated pattern with the different lines holding on, but only just. The males seem to be unfortunate in the family stakes whilst the females seem to have a propensity to produce many and healthy children, The bloodline, therefore, continues whatever the name. It serves as a lesson to those who think that their existence continues after them in this world with their name and their work There is little left of either to remind us of William and his family or their work. I was taken on one of those rare days out after the war when we were allowed to visit the coast. They had started to clear the beaches of that massive, metal giant knitting otherwise known as anti-submarine netting. I found out that there was someone else with my surname who carried on the strange trade of a taxidermist. I was suitably amazed when, on a visit to St. Michaels Mount my father pointed out to me the many glass fronted wooden cases arranged on shelves around the high walls of the old building, now pressed into hurried use as a "Tea Room"
These contained the remains of once living wildlife in various forms. There was a strange, macabre sensation as I observed one specimen more closely. Someone my father knew allowed him to take down a case from a shelf. Never had I ever seen such an object at such close range and in such detail. It was quite beautiful, if quite dead. As a child I should have been prepared for it to take on life again at any moment. I knew it was never going to come alive again ever . I had seen enough dead rabbits and birds hanging in the game shops to recognise a dead one when I saw it. This said something to me even then about the difference between the skill of the creator of such a life form and the preserver of its dead body,: so exquisite and lifelike but totally lifeless. I can see it clearly now in my mind's eye, that bird of the high summer skies, the Buzzard, with it sparkling far-seeing eye, still sparkling but sightless. Since then I have never seen one as close in real life They are returning in greater numbers to our high moorland and if I am lucky they stay on their telegraph pole perch, undisturbed, as our car slowly passes by. Anyway, the most beautiful experience is not the sight but the sound of their high pitched cry as these high flyers drift up and up on the high thermals, soaring higher and ever higher, as if in competition for the rarest air. Now that is beautiful !
One year after his death, the collection of W H Vingoe of Penzance was sold at the famous auction rooms of STEVENS of COVENT GARDEN. Eleven specimens were obtained by the Natural History Museum.. He was the most prolific of all the local taxidermists when the craft was at the height of its popularity and was responsible for most of the work in the RODD collection. A rare specimen of the Cream Coloured Courser taken locally, found its way into the collection of Sir Vauncey Harpur Crewe of Calke Abbey & now resides in that equally auspicious location the Booth Museum. The Shaws of Shrewsbury also had dealings with William Henry Vingoe.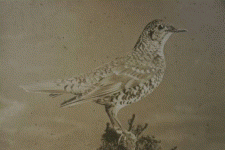 This "cabinet card" shows a Whites Thrush by W. H. Vingoe, 1874 in the Rodd Collection.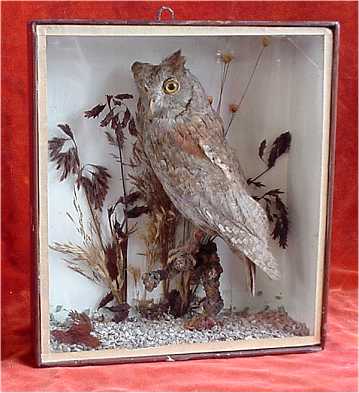 Description: Mounted Scops Owl in glazed case, trade label by W. H. Vingoe, naturalist *, Penzance
His work is still popular and the above example sold recently at auction for £115.
* "Naturalist". We must bear in mind that this was a different age. Preserving wildlife then had a totally different connotation
Sandra and George Pritchard are the authors of original work on this site. They give permission to copy and use this information on the following conditions.
1 It will not be used for profit.
2. The source will be credited.

Copyright © 2001. 2002. 2003 All rights reserved.
Revised: October 31, 2005 .